Wisps of pipe smoke - I've always loved the smell of pipe smoke. I once had a Sunday School teacher who smoked his pipe throughout our weekly lesson.
W Memories: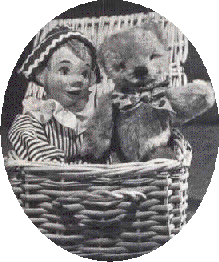 Andy and Teddy waving goodbye
Watch with Mother -
I've been looking forward to this one. I worshipped Watch with Mother. I watched it long after I needed my Mother to sit with me to watch... even though the episodes were repeated so regularly that I could mouth most of the words. These were the programmes:
On Monday it was
Picture Book
. My favourite bit was remembering all the items on a tray and then spotting what they'd removed.
On Tuesday it was
Andy Pandy
. I loved Andy Pandy and Teddy more than I can ever say. My clearest memory is of Andy Pandy waving in a circular motion and Teddy waving frantically up and down as they sang "Time to Go Home"...
[la la la... Andy is waving Goodbye, Goodbye, Goodbye... *waves circular with one hand and frantically with the other*.]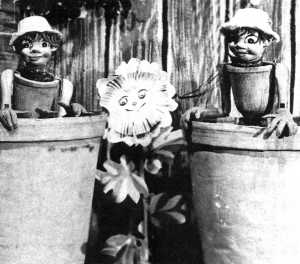 Bill, Ben and Little Wee-eed
On Wednesday it was
The Flower Pot Men
. I was ecstatic each time they said "Flobadob" to each other. Weed used to warn them when the gardener was coming by screaming "Weeee-eeeed!" and I always worried that they'd be caught.
On Thursday it was
Rag, Tag and Bobtail,
three gentle characters, a hedgehog, a mouse and a rabbit.
On Friday it was
The Woodentops
. I still occasionally copy the way that Spot the Dog did scissor walks across the screen.
Bert Weedon -
Sadly Bert Weedon died just a few days ago aged 91. His love of guitar playing, his amazing techniques and his easy-to-follow tuition books influenced so many great guitarists it's hard to know where to begin.
Weedon's Play in a Day books taught The Beatles, Queen's Brian May, Eric Clapton and many more to play. Paul McCartney called him Britain's Mr Guitar and it's hard to imagine how the UK music scene would have developed without his influence.
William Hartnell, the first and some say the best, Dr Who
On TV:
Watch with Mother
Wicker's World
Wack-O!
The Wombles
Dr Who
Wagon Train
What's my Line
The White Heather Club
On Radio:
Workers' Playtime
Woman's Hour
Marty Wilde, father of Kim Wilde
W Names:
Harold Wilson PM
John Wayne
Bert Weedon
Marty Wilde
Dionne Warwick
Walker Brothers
Mary Wells
Jackie Wilson
Junior Walker and the Allstars
Stevie Wonder
The Who who provide the...
W Music:
The Who singing My Generation live at Woodstock. For more memories about Woodstock pop along to
Anne Mackle's blog at Is Anyone There?
Thanks for making this challenge so much fun by adding
your memories. Keep on telling me what I've missed!