Knees – Don't pretend that you don't know what I mean! I'm talking about those days when we ran round with bare legs all day and then we'd sit down and hug our knees and smell grass, fresh air, earth and that faint aroma of sun-tanned skin.
K Memories: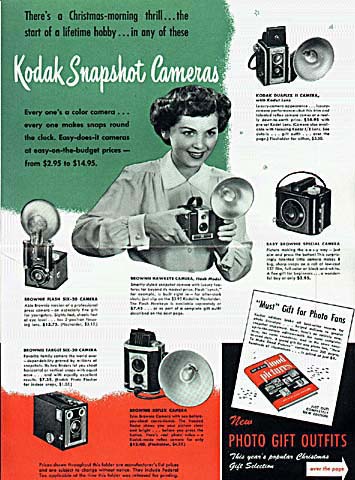 Kodak Brownie Box Camera – I only have vague memories of Dad's box camera. It was square and you held it at waist height and looked into a lens on the top. I think it looked like the one bottom left in the picture. Dad let me take photos with it sometimes as a special treat. He also had a camera with an accordion-style front that pulled in and out. Of course, the film had to be taken in to a camera shop to be developed and it took several weeks before we saw the results.


Kennedy's Assassination – This was the first piece of International news that had a profound effect on me... and yes, I do remember where I was when I heard about it. I was getting ready to go to my friend, Sylvia's house. I couldn't believe that something so awful could actually have happened.
Knees [again] – No, I don't have a knee fetish but I suspect the 1950s and 60s did! In the 50s we were surrounded by boys' grubby, scabby knees in school. This was because boys under the age of thirteen rarely wore long trousers. In the 60s it was us girls displaying our knees with our teeny, tiny mini-skirts that barely covered our essentials!
Rita Tushingham, Michael Crawford and Ray Brooks.
So young and so gorgeous (especially Ray Brooks!)
K Programmes:
I can't find a single TV or radio programme beginning with K so...
Films:
The King and I
The Knack which I saw at the pictures in 1965 and adored.
K Names:
Grace Kelly, film star, who married Prince Rainier
in a real-life fairy tale wedding.
John F. Kennedy, USA
Chiang Kai-Shek, China
Khrushchev, Russia
Grace Kelly
Danny Kaye
Gene Kelly
Gladys Knight
Carole King
Eden Kane
The Kinks who provides the...


K Music:
The Kinks singing Waterloo Sunset
I'm loving all your extra memories.